CLERGY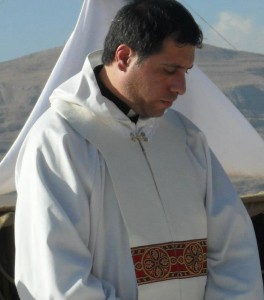 Born in Beirut April 25, 1980.
B.A. in Social sciences from Lebanese university Rabieh.
S.T.B. in philosophy and Theology from USEK University Jounieh.
M.S. in Leadership concentration in Professional administration from Duquesne University in Pittsburgh.
Father Simon El Hajj was raised in Bourjhammoud and belonged to St. Joseph church. Since he was 9 years old, he began his journey in the organizations in the church as a member of Fursan Al Azraa, then a president of Talaeh ElAzraa, the the young adults of Mary.
Father Simon was regional president for Fursan El Azraa in Maten l sehil, and a consultant for same organization all over Lebanon.
Father Simon was trained by World Vision organization to work with children early 1998. He volunteered for the same organization for over 5 years.
Father Simon became a trainer for all new chiefs who wanted to work with children ages 6 to 14.
In 2005, father Simon entered Ghazir seminary to prepare his journey toward the priesthood.
He was ordained as a sub-deacon in December 2009.
Ordained as Deacon in May 2, 2010.
Ordained as priest in August 15, 2010.
Father Simon came to the U.S. December 2010 as a parochial vicar in Our Lady of Victory in Pittsburgh.
In September 2011, Father Simon was assigned as an administrator to the Maronite Community of Aliquippa.
Father Simon worked to elevate the community to a Mission in June 2012, and moved the church to Darlington, PA.
October 1, 2014 father Simon was assigned as a Pastor of Our Lady of Lebanon, Easton PA.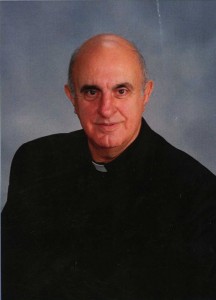 Born April 1, 1947 in Easton, Pennsylvania, a son of the late Frank and Catherine (John) Koury.
Deacon Anthony has been serving Our Lady of Lebanon since being ordained on July 11, 1982 by Arbishop Francis M. Zayek.
Deacon Anthony served as a teacher and Athletic Director at Notre Dame High School for over 40 years starting his position in 1969. 
Deacon Koury married his wife the Cheffie on May 23, 1970, whom are the proud parents of two children and one grandchild.
Deacon Koury has served Our Lady of Lebanon Maronite Church in Easton, Pennsylvania for the last 60 years, as a Deacon,  alter server, cantor, lector, member of the parish council, director of religious education, bingo worker and serving on various committees.
Deacon Anthony's life has been one of total service to his family, church, community, and Our Lady of Lebanon where he has helped shape the lives and futures of thousands of people.