MAR AWTEL: PATRON SAINT of KFARSGHAB, LEBANON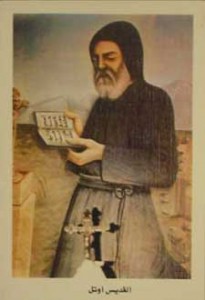 Mar Awtel (Saint Autel) is the patron Saint of Kfarsghab, a village in North Lebanon, located in the Wadi Qadisha (Holy Valley), directly across from Ehden and adjacent to Jabail Mar Sarkis.
Feast day:  3rd June  [The Saint is also celebrated by the Village of Kfarsghab on 27th August]
Mar Awtel was born in the middle of the 3rd century. As a youth he was converted to Christianity and baptised. He pledged his  "virginity" to God but his father wanted him to marry and thereby break his pledge of celibacy. To escape he left for the city of Byzantium [re-named in 330 to Constantinople and subsequently to Istanbul in 1930]
While travelling on route in a boat he encountered a severe storm endangering the boat and all on board. He prayed for deliverance and the boat was saved and as a consequence those on board were converted to Christianity and baptized.
He remained for 20 years in Byzantium until his father died, whereupon he returned to his home and became a monk.  He performed many miracles, one of which was the cure of a pagan man.  This cure was the reason for the conversion and baptism of ten thousand pagans.  After being a monk for 12 years he became a hermit until he died in 327.
Although it is a matter of conjecture [and subject to correction], it is thought that the reason why the Saint is celebrated on a different date in the village of Kfarsghab, 27th August, as oppose to 3rd June, is that traditionally the village population was split on the 3rd June between the winter village of Morh Kfarsghab, and the summer village of Kfarsghab.
By the 27th August the whole village was together, and it could also be that the date was chosen to replace a pagan sacrificial festival on that day. It was a common practice for the Christian Church to take over pagan festivals.
The traditional Saint's day meal, " The Hrissé", is prepared after the slaughter of a goat or sheep, by those who vowed to prepare the meal after their prayers to the Saint were answered. The meal is handed out to the congregation after Mass on the day.